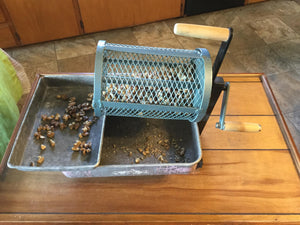 Great idea from George. He made a nut tumbler to sort the nutmeats and shells.
He said "Did I ever show you the tumbler I made to rid nutmeats of any little pieces of shells?
I toss in a couple handfuls of nuts, give the crank a few turns, and the fines and shell bits fall into the pan under the tumbler, while the larger sections tumble to the front and into another pan leaving me with the nice large nutmeats that people like.
It works slick, ridding the nutmeats of those pesky little shell piece."
It is so neat creative design.